The only tools required to perform a home inspection to meet the standards of practice in North Carolina are a 4′ step ladder, flashlight and screwdriver. While some home inspectors settle for meeting the minimum standard, Sure Sight Home Inspection uses the latest in diagnostic tools to ensure that the homes we inspect are safe and in good repair. Nothing complements your inspector's knowledge quite like a good moisture meter or electrical tester. Check out our arsenal of diagnostic equipment and feel free to compare it to the competition.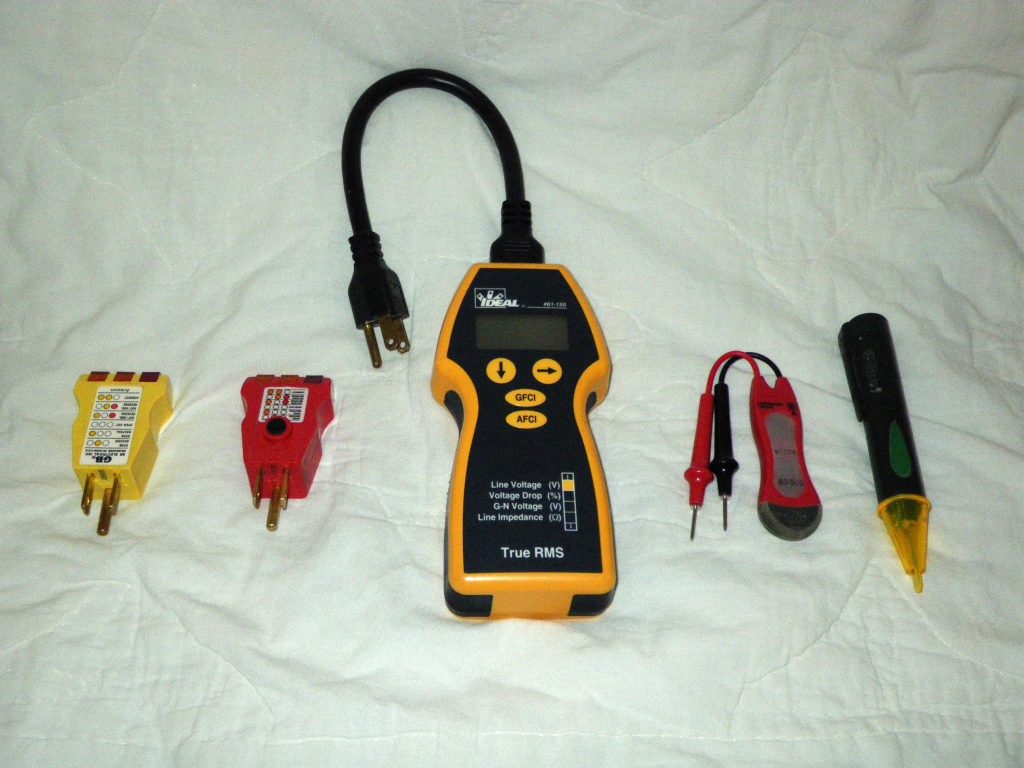 Sure Sight Home Inspection carries a variety of electrical circuit analyzers to check your homes wiring. The most common in an inspectors tool bag will be the standard three light testers shown on the far left. These will help your home inspector quickly determine if there is reverse polarity or an ungrounded receptacle. The larger tester in the center is a more expensive piece of equipment that most inspectors don't carry. This tester does everything that the cheaper three-light testers do but can also test the operation of GFCI and AFCI protected circuits. This tester can also perform voltage drop and resistance tests. The neon bulb tester pictured fourth from the right can be used to check polarity and grounding of any receptacle but is generally used on older two-slot receptacles. Finally at far right is a voltage detector. Is that exposed wire dangling in your crawlspace or abandoned in your attic live? This detector will let you know.
Nothing has or will change the home inspection industry more than infrared thermal imaging or thermography. Our latest addition to the tool bag is an infrared thermal imager. The thermal imager allows Sure Sight to see problems that are not visible to the naked eye. Thermal imaging can quickly and nondestructively uncover missing and misapplied insulation, air leakage, moisture intrusion, and electrical problems such as overheating. Thermal imaging is a technology that has been used for years in military operations and has now moved to the industrial, electrical, and building diagnostics fields. Thermography requires in-depth classroom and hands-on training to master. Matthew Bartels, owner of Sure Sight Home Inspection, Inc., has trained with the world's leading experts on infrared thermography and is certified as a Level 1 Thermographer. As with our industry-leading report and high-tech diagnostic tools, Sure Sight Home Inspection is proud to once again be a pioneer in the inspection industry by being the first home inspection firm in the Triangle region to offer thermal imaging in a home inspection. Thermal imaging services can be added to any of our home inspections or be performed as a stand-alone service.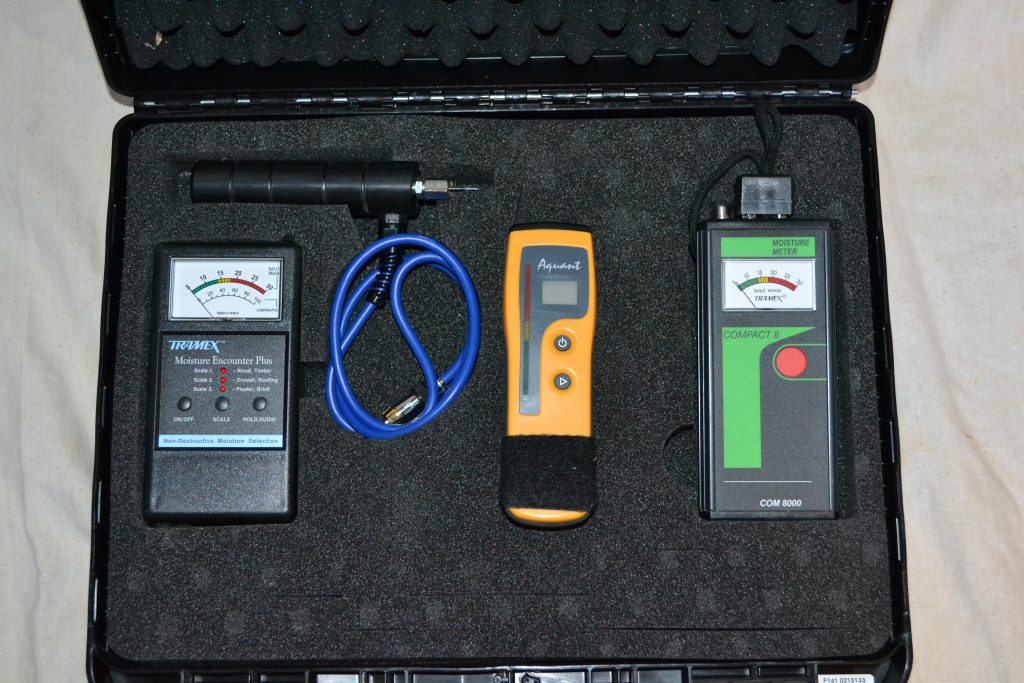 Does the home inspector you're considering use one or more quality moisture meters? Sure Sight Home Inspection carries both a probe-type moisture meter and a non-destructive moisture meter. These can be invaluable tools for identifying an active leak. It is very common to find stains on walls, ceilings, and floors. Stains found in the attic on the roof sheathing are extremely common. Don't settle for the home inspector who looks at a stain and says, "There is no way to tell if it's wet." Yes there is–it is just not included in their low home inspection prices.
What's so special about a thermometer? Would you prefer that your home inspector test your air conditioner and furnace by placing a hand over the vent and feeling if it's cool or warm? Or would you like your inspector to measure the temperature differentials between the supply and return air to determine if they are within the proper range? Unfortunately, many inspectors out there still choose the hand method because they believe that the thermometer method is "too technical." Stay away from these types of inspectors unless a rock-bottom price on a home inspection is your only priority.